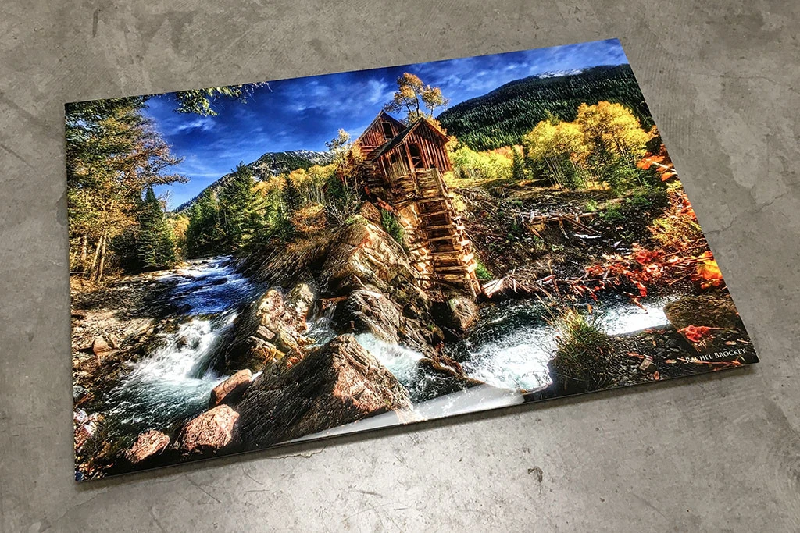 Talking about earlier times, a decade or so, acrylic and metal prints were the babies of art galleries and luxury residences. However, the boundaries extended, and now, if you wish, you can have them at your home. They're highly in-trend and clearly, much more meaningful and advanced than a photo frame. That's because:
Acrylic prints are done on glass and metal prints on aluminum. That's why they do not wrinkle like pictures in a photo frame.
They actually last since the print is done on dibond that's very durable.
That said, we'd like you to make acquaintances with both the types – acrylic and metal – so you can decide which one would you want.
Big Acrylic Prints on Glass
Printing pictures on glass with the help of a flatbed printer beautifies an image in a gazillion ways. And, you should know about them when you intend to buy one.
They're Radiant – Glossy glass prints are crystal clear. The colors turn out to be remarkably striking. Also, they have a high contrast ratio.
They're Durable – Acrylic is actually akin to glass. The difference being, the former is shatter-resistant.
They're Lightweight – This is yet another quality of acrylic that makes it popular and easy to clean.
That said, acrylic glass prints are clearly an affordable choice. However, if you're looking for a picture to tastefully refurbish the exteriors of your house, then glass prints aren't suitable. They can't withstand harsh weather. This is where metal prints come to picture.
Big Acrylic Metal Prints
Metal prints are done on aluminum that's resistant to harsh climate. As a result:
The colors in the picture do not melt in heat.
They do not smudge or run in rain.
Intact, metal prints are of 2 main kinds.
Brush metal
White metal
Brush metal defines a print where some areas in the picture are left white. And, all the white areas look as if they're brushed in contrast to the rest of the picture.
White metal, on the other hand, is known for its high contrast ratio.
Now, whichever of the 2 kinds – acrylic and metal – you choose, there are 3 mounting options to pick from.
Standoff Option, where the picture is screwed to the wall with nuts and bolts.
Float Option, where the picture is attached to a block that's further embedded to the wall to create a floating semblance.
Float Frame Option, where the picture is secured in a frame from all 4 sides to create the floating semblance.
So, the type of print you buy will likely depend upon your personal likes and requirements.