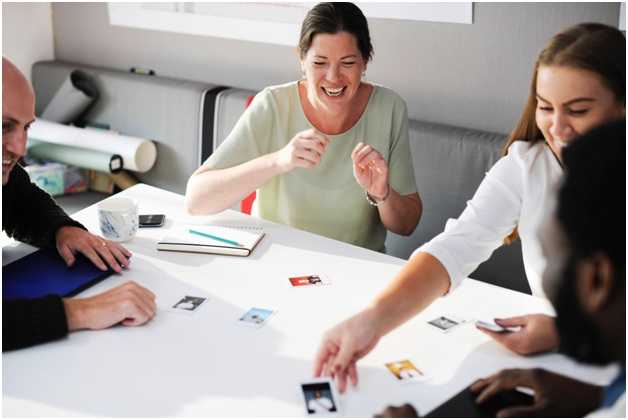 Happiness in the workplace is one aspect that most team leaders and business owners overlook all too often. Not going out of your way to ensure the happiness of your team members is counter-intuitive.
It is a proven fact that happier team members tend to be more productive.
Productivity aside, of course, you want those working with you to be happy. Happiness should be one of your primary value propositions to existing employees.
That being said, here are a  few ways you can keep your office staff happy and productive.
Team Building Activities
Most team leaders fail to get the most out of their team members for several reasons, including the fact that most employees do not feel a personal connection to the mission and vision of the organisation.
A great way to get everyone on board with the team leader's vision for the organisation would be to organise team building activities that are unrelated to work.
It is easy for team members to get lost in work and feel like they are just a pawn in the organisation's grand game of chess. Regularly scheduled team bonding activities will ensure that everyone knows how vital they are to the organisation.
Make Work Fulfilling
For the vast majority of us, we do not feel like the work we do is fulfilling enough, it is easy for team members to drift off when they are working on tasks that they do not understand the essence of or the importance of.
No one ever wants to feel like the work they are doing is insignificant. For employees to feel fulfilled in their line of work, they need to understand the purpose of your organisation, the why, how and what of your organisation.
All these and more will ensure that your employees are aligned to the cause of the organisation.
Safety
The easiest and most effective way for you to show your employees that you genuinely care about them is to care for their safety.
Safety in the workplace is a fundamental pillar of most successful organisations. Employees will feel safer and ultimately happier when they know that their team leaders and organisational heads are looking out for them.
An excellent way to look out for the safety of everyone in your organisation would be to introduce safety signs to protect everyone in the office. Safety signs range from Warning signs, through administrative signs all the way down to prohibition signs.
Productivity
Every single detail about your organisation should increase productivity and improve your operations. Everything from the physical layout of your office space down to the team member compensation plans should be geared towards maximising the productivity of your employees.
A few other ways to improve productivity in the workplace include ensuring that the environment is safe; employees should breathe only clean air, avoid pollution, allow for personalisation of workspaces and most importantly instil a culture of friendliness in your organisation.
Improve your Organisational Culture
Millennial employees have proven that it takes more than money to motivate employees; unfortunately, most employers are yet to pick up on that.
Nowadays, financial compensation is seen as a means to an end rather than a measure of success; team members are better motivated by additional perks that sometimes have nothing to do with money.
A few of them include the ability to work on projects they care about, health and wellness benefits, childcare support, improved standard of living, recognition within the entity, corporate social responsibility amongst others.
Image Pexels License CCO