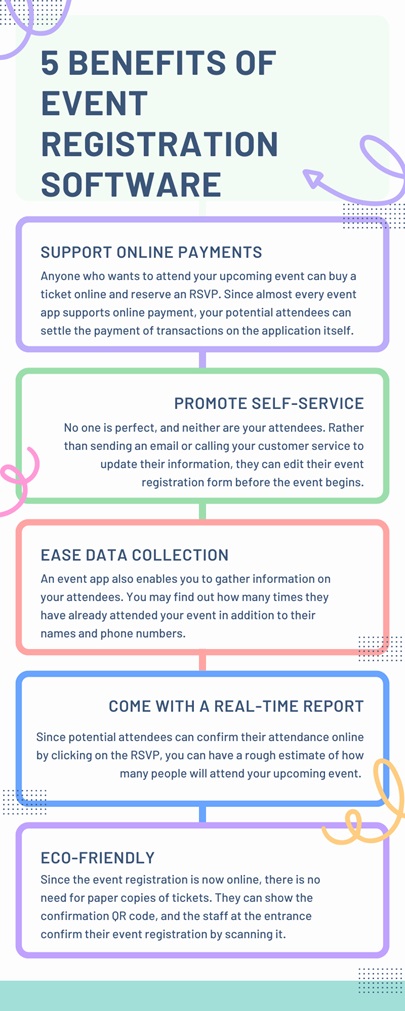 With further easing community measures, more businesses can now hold their events in person. Instead of doing the event registration the old-school way, you should consider streamlining the process with modern technology.
Make your event registration stress-free by using a system. To convince you more, here are the benefits you can gain from event registration software.
1. SUPPORT ONLINE PAYMENTS
Anyone who wants to attend your upcoming event can buy a ticket online and reserve an RSVP. Since almost every event app supports online payment, your potential attendees can settle the payment of transactions on the application itself.
2. PROMOTE SELF-SERVICE
No one is perfect, and neither are your attendees. Rather than sending an email or calling your customer service to update their information, they can edit their event registration form before the event begins.
When you invest in event registration software, its system allows you to set up until when the attendees can edit their personal information.
3. EASE DATA COLLECTION
An event app also enables you to gather information on your attendees. You may find out how many times they have already attended your event in addition to their names and phone numbers.
4. COME WITH A REAL-TIME REPORT
Since potential attendees can confirm their attendance online by clicking on the RSVP, you can have a rough estimate of how many people will attend your upcoming event.
5. ECO-FRIENDLY
Since the event registration is now online, there is no need for paper copies of tickets. They can show the confirmation QR code, and the staff at the entrance confirm their event registration by scanning it.
Are You Ready to Take Your Event Registration to The Next Level?
If yes, use the event app from Evention Singapore. Not only does it have an online RSVP, but it also has an automated system that confirms attendees' online RSVP with a QR code.
Contact Evention Singapore at +65 6208 7038 or leave a message on their website if you are interested in requesting a free demo of their event registration software.