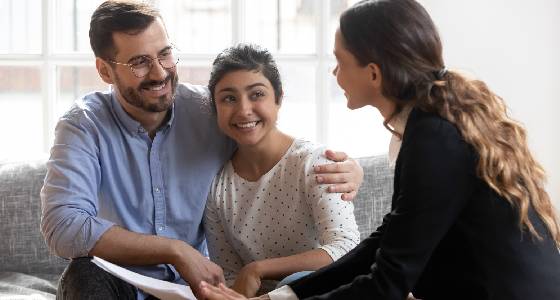 Thinking of gifts for your partner can get difficult every now and then. Sometimes you want to give them everything you can and everything they want, but often, nothing you give them seems enough. One commonly thinks of gadgets, jewellery, clothes, or other such things as gifts for your partner. But it is rare for someone to think beyond these usual choices of gifts.
Stepping beyond the obvious can help you make the occasion more special and memorable. If you are thinking about what to gift your partner, you may want to think about what they would like. You could think about what the best for them would be, and one of the things that could be good for them is financial security.
But how do you get them financial security? There are many ways to do so. You can save money for them, invest it, or do something that would offer them financial security for an unforeseen future – buy life insurance.
What is Life Insurance?
Let's take a look at what life insurance plans are. Life insurance is often described as a contract or an agreement between the insurance provider and the policyholder. Through life insurance, the policyholder is offered a life cover in return for premiums paid to the insurance provider.
What is a life cover? It is a benefit that the nominee of the life assured will receive in the event of an unfortunate circumstance. It is usually referred to as 'death benefit'.
Depending on the type of policy you purchase, you may also be able to get some other benefits from your life insurance plan. For example, a level term insurance plan may come with riders that allow the life assured to expect pay-outs from the plan when they meet with an accident that results in a permanent disability. Another example is term insurance with return of premium plans, whole life insurance plans, or endowment plans that are known to offer maturity benefits which can be used by the policyholder.
Life insurance is one of the easiest ways to protect the future of your loved ones as well as build some financial support for yourself. Hence, it makes for one of the most useful gifts you could give to your loved ones, especially your partner.
Types of Life Insurance
Which life insurance you buy for the sake of your partner can bring a slight alteration to your finances as well as your collective future. There are various types of life insurance policies available today. Let's take a look at some of the commonly available ones.
Term life insurance plans are one of the simplest types of life insurance plans. The core plan offers only a death benefit, but the plan can be further enhanced with riders and benefits added to the plan. Moreover, there are various sub-types of this plan that allow you to choose one that suits your needs. This is an ideal plan to choose for your partner if you are looking for something low-cost with a limited duration.
Whole Life Insurance Plans
These plans offer coverage for up to 99 years of age, i.e., if the person insured survives till 99 years of age, these plans offer maturity benefits. These tend to be slightly more expensive as compared to term life plans. Whole life insurance plans are the choice for you if you are looking for lifelong coverage as well as maturity benefits andare not worried about the cost.
Endowment plans offer maturity benefits alongside a limited duration. These plans can be taken for a period of as little as 10 years. These act as savings plans. If you are keen on maturity benefits, endowment plans may suit you best.
These are investment cum insurance plans with a side to them that allows you to dabble in funds. If you are keen on building your wealth alongside having a life cover, you may like to opt for ULIPs.
Life Insurance As A Gift
Whatever the occasion, know that life insurance is a gift that may pay off in the future. It shows how you cherish your loved one and the value he or she adds to your life. 
If you want to secure your partner's financial future, you may opt to buy a plan for yourself. On the other hand, if you are looking to support them in their endeavours to protect the family, you can buy a life cover for them.
There are also plans that may cover you as well as your spouse. If you are looking to ensure the wellbeing of your collective future, these plans may be what you are looking for.
Whichever type of life insurance policy you choose to buy, remember that life insurance is a long-term financial commitment. The true joy of this gift lies in maintaining your policy for the duration it has been taken for. So, don't forget to pay your premiums on time if you want to make this gift last.