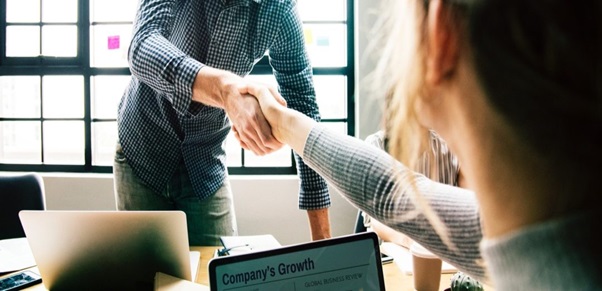 Your body language is critical in making a strong positive impression on people. Similarly, visual brand identity is the cornerstone of employer branding. The visual harmony within the corporate brand identity works as the starting point of defining your employer brand in diverse scenarios.
Most companies have a strong corporate brand identity in place with specific guidelines designed to encompass brand message format, fonts, colour scheme, and more. Corporate brand identity guidelines should define the following visual elements in great detail:
Logo design: Set guidelines on the shape and colour of the company logo that would be used in all digital and print formats, including website pages, brochures, and presentations.
Design elements: Set guidelines for the patterns to be used as graphics including background, style, and colour that reinforces brand recognition across diverse channels.
Colour palette: Set guidelines on the use of colours and fonts that will be used in every medium of communication with the targeted audience.
Photography: Set the style of images that need to be used for brand communication with illustrative examples.
Tapping and retaining talent is of critical importance for every organization who are keen to sustain themselves in the volatile market. Employer branding is based wholly about the overall value proposition that impacts employee job satisfaction directly. A worthy branding strategy like the one employed as part of agencies such as  Brandmatters Employer Strategy can result in consistent employee engagement and retention too. It also consolidates the talent acquisition process in a streamlined manner.
An Employer Branding Strategy through visuals
It is proven time and again that visuals have a lasting effect on our minds. Evidently "a picture is worth a thousand words" and hence visuals play an important role in effective employer branding. Although words help in establishing a brand identity, the visuals infuse their own life into them.
In present times, high smartphone usage has prompted employers to think creatively for their branding strategy. Data reveals job openings that consist of video icons are viewed more than those without videos, almost 12% more. Employers have consistently received 34% more job applications when they post a company video.
Many companies have opted for video marketing to convey their message effectively across different platforms. Many people have leveraged the power of YouTube and videos for their employer branding strategy.
Here's what employers branding videos can do for an organization:
Showcase your workplace and other employees
Employer branding videos showcase your workplace culture with people. It is essential to project employees and managers working in nice swanky offices. Prospective employees are always interested in the work culture, the environment, and their future colleagues before they start working for the organization.
Showcase company culture
Employers branding videos showcase business culture like no other in the form of real-time stories of employees, videos on a typical day in the office along with a graphical layout of workplace policies that sum up the employer value proposition succinctly.
Some useful Corporate Brand/ Employer Brand Visual Guidelines
Corporate brand guidelines are different from employer branding strategy since they define a general set of parameters for finalizing brand identity. Adapting the identity in recruitment marketing based on the needs of the target audience is the key to a successful employer branding perspective.
Corporate branding usually focuses on a muted and conservative range of colours geared towards investors. Employer branding, on the other hand, utilizes an expressive range of colours indicating a welcoming and personal working environment.
Corporate branding relies on formal design schemes usually whereas successful employer brands feature vibrant design elements focused on enhanced creativity.
Corporate branding focuses on presenting the product and the company structure itself while employer branding ideally focuses on happy images of people.
A separate set of employer brand guidelines that balances itself with the corporate brand guidelines will help to provide a smart, human context to the employment strategy.